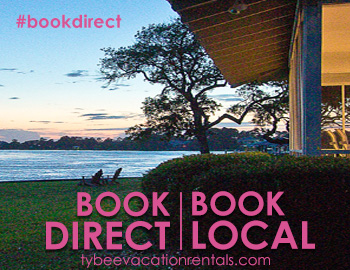 Did you know that Online Travel Agencies are charging additional booking fees just for booking on their website? Online Travel Agencies, called OTA's, have changed the way they do business, leaving the consumer footing the bill. They are adding additional booking fees to each reservation, which can add 12% – 20% in fees to your booking total. These OTA prices include not only the vacation rental cost but also website fees too. This can add hundreds of dollars of costs to your family's vacation!
Why will you save? Because these websites add additional service fees on top of the normal rental charges from the property manager. In addition, you could be missing out on special offers or payment arrangements that the property manager is offering. Tybee Vacation Rentals offers a specials page that we update regularly that offers our regular savings as well date and property specific special offers.
Save Money
Online Travel Sites (OTA), VRBO, Airbnb, HomeAway, and many others, can add up to 20% in fees to your booking total. These OTA prices include not only the vacation rental cost but website fees too. This can add up to hundreds of dollars. #BookDirect means you get the best and most current price without any hidden fees.
Communicate with a Local Vacation Planner
Tybee Vacation Rentals' local Vacation Planners know the properties better than anyone and are available seven (7) days a week. They have local knowledge and can make personal recommendations about the area, things to do and where to eat, just to name a few. You won't leave feeling anxious about any part of your decision. Always service with a smile, our local Vacation Planners can make sure those particular needs are made possible whether a birthday, anniversary, or other special occasions.
Enjoy More Choices
By booking direct you have access to all of our available properties as we don't list on all OTA's and even the sites we do, only a portion of our properties are shown. As the largest vacation rental manager in our destination that means when you are shopping on an OTA, you are missing out! Our website is simple and easy to use and our local Vacation Planners are here to help you find a vacation rental that fits your needs and budget.
Access to Special Offers
Booking through Tybee Vacation Rentals means you can see any special offers that you might not be aware of if you book elsewhere. Browse our website to find your perfect vacation experience. Whether you are looking for a quick trip for two, or a large group that will spend a week at the beach at one of our large beach homes, you will certainly want to take advantage of one of our special offers, not to mention, the #bookdirect savings that are automatic because we do not charge additional booking fees.
Safe And Secure
Thanks to the Internet, booking travel online is simple. The number of phony travel booking websites is growing because they're so successful at scamming consumers. Book directly with Tybee Vacation Rentals to avoid online travel reservation scams.
So, when planning your next Tybee or Savannah vacation, don't forget to #bookdirect to:
Talk with a local Vacation Planner or book online on TybeeVacationRentals.com
Access Local Knowledge to book your best experience
Enjoy more choices for your stay
Benefit from Special Offers
Save Money!